BRAZILIAN CHERRY / JATOBA - NATURAL
Grade: Select Prefinished
Janka Hardness: 2,350 (pounds)
length: Random
Installation: Lock & Fold or Glue
Net Size: 3-5/8" X 1/2" and 5" x 1/2"
Box Size: 3-5/8" - 21.06 sqft/box; 5" - 19.53 sqft/box
Specie Description
Brazilian Cherry, also known as Jatoba, is one of the most popular exotic hardwoods. It's not difficult to see why: Brazilian Cherry's breathtaking reddish-brown heartwood is lined by dark black streaks, giving it not only contrast but amazing depth as well. The heartwood will darken over time to a softer red-brown. Beyond its beauty, Brazilian Cherry is incredibly strong, with a Janka hardness rating of 2350. Silica is a natural mineral deposit commonly found in Brazilian Cherry, which can appear as a milky discoloration on the surface of the wood. This natural mineral can be identified by thin white lines in the grain, which go all the way through the piece. As the wood darkens due to exposure these affected areas remain lighter and typically present themselves in the form of blotches and streaks. We make every effort to eliminate silica from our Select & Clear grade flooring, however, it is not uncommon for some boards to make it past the inspection process. Because silica is a naturally occurring mineral within the tree it is not considered a defect and is not basis for a claim.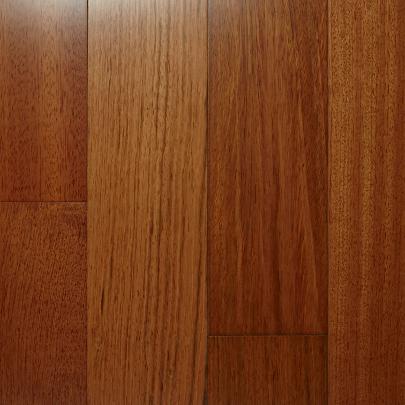 TIGERWOOD NATURAL
Grade: Select Prefinished
Janka Hardness: 1850 (pounds)
length: Random
Installation: Lock & Fold or Glue
Net Size: 5" x 1/2"
Box Size: 19.53 sqft/box
Specie Description
Tigerwood is a highly distinctive exotic wood with vibrant reddish-brown tones and prominent black striping that varies in thickness from fine strokes to thick contours. Its interlocked grain is also wavy and irregular, complimenting the wood's dynamic appearance. Tigerwood is ranked among the more durable hardwoods with a Janka hardness rating of 1850, making Tigerwood a visually striking floor that lasts.